Important: Read carefully before you start using Moppsy Pro 2

The goal of Moppsy Pro 2 is to improve and facilitate the work of cleaning different surfaces, floors, walls, windows, ceilings...
Improved because it is able to clean the mop preventing water and dirt from spreading on the floor. When the mop goes through the rinse and wringer of the Moppsy Pro 2 leaves the dirt in the bucket and prevents it from spreading on the floor.
The draining system removes excess water and allows you to control dampness depending on the type of cleaning.
In addition, by cleaning with a two-step system, working time is reduced by up to 35%.
The work is much easier as you don't have to touch the mop to change it or wring it out. Moppsy Pro 2 makes efficient use of water, so it needs less quantity and the bucket is less heavy and manageable. Efficient water use and washable refills help us to better preserve our environment.
How to place the mop refill properly. Proper mop placement is a critical step in the use of Moppsy Pro 2. The three teeth of the mop head must fit into the three reinforced pockets of the refill.To make this more convenient, roll the mop into a cylinder.Lace-up the pockets and teeth. Make sure that all 3 teeth are properly seated.Unroll the refill, centering it on the mop head, and pass your hand over it so that it is well attached to the Velcro.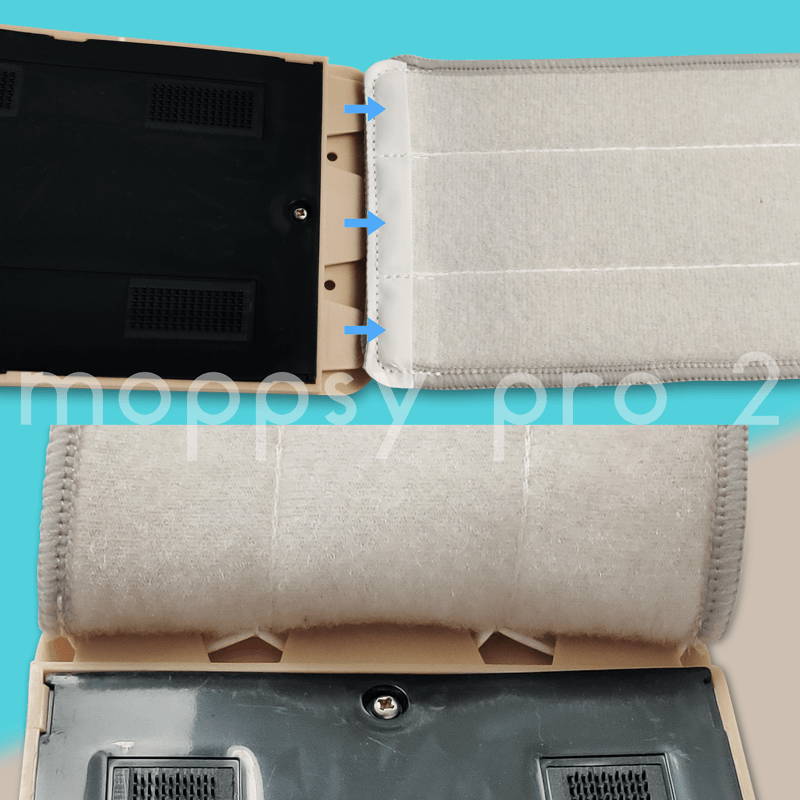 Automatic folding system. Moppsy Pro 2 is easy to use and includes an automatic vertical folding system so that it can be inserted into the bucket without having to touch it with your hands.This system only works on one side, to give you more stability while working with the mop.To conveniently fold it, just turn the handle one or two degreesBe sure to always fold the mop to the right side. The mop head is sturdy, but if you force it to the opposite side you may end up breaking the mechanism or even the head.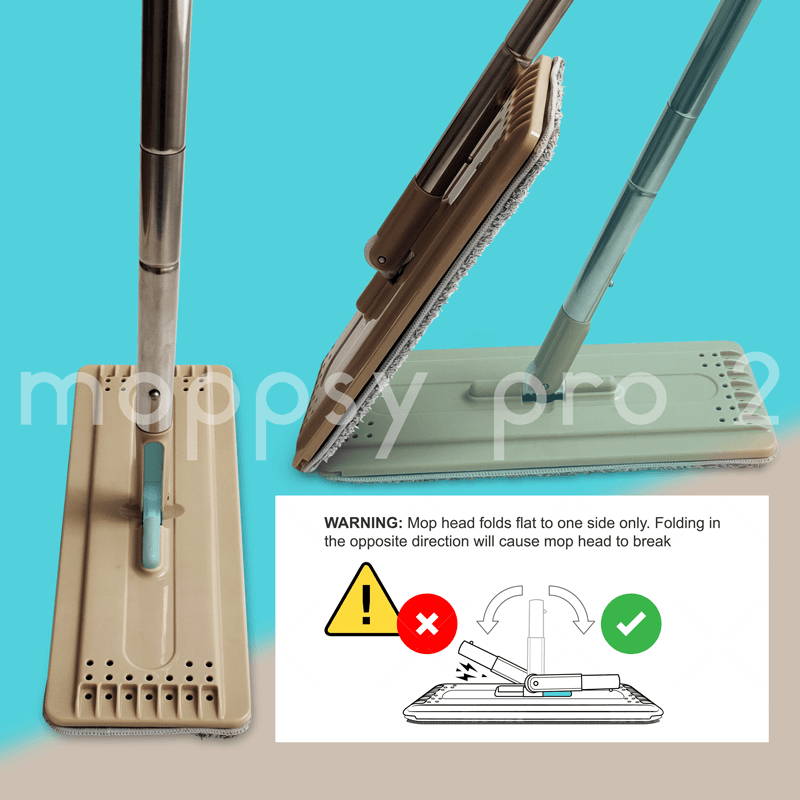 Fill out only the rinsing part. The draining compartment, where the black rectangle is located, must be empty.
Place the lid on the bucket. The widest part of the bucket corresponds to the WASH slot.

You can use your usual cleaning product. Insert the mop in the water to wet it or to rinse it, insert the mop in the wringing slot by applying slight pressure.Slide the mop until it has the dampness your floor needs.With 6 or more passes the mop releases most of the water.